I believe you'll concur when I say:
Small changes eventually add up to huge results.
I have stood by the above quote throughout both my professional and personal journeys. Recently, I have had an amazing opportunity with Chamonix IT Solutions to further deliver the best business and technology support and value to customers.
Chamonix has been leading whole of business and digital transformation across a range of industries for more than a decade now and I'm excited to be a part of this organisation as they embark upon the next chapter.
I want to reflect on a recent venture I undertook, which not only gave me an insight into the Health industry, but also gave me the opportunity to make recommendations on how we can make the most of the technological advancement in driving better health outcomes.
The unprecedented COVID outbreak has affected actions and operations in every business area – not least the health sector. The pandemic brought on an era in which nearly every aspect of our lives went digital. As we patiently await the return to pre-pandemic days in the healthcare industry, the "new normal" is here to stay with further advancements via enhanced insights that the digital forum affords us driving more data-driven actionable decisions.
There's no doubt that better use of technology can help enhance the healthcare system for both providers and patients, helping people live healthier lives, with enhanced control and better access to important health information.
One of the biggest initiatives to ensure key health information is available whenever and wherever it is needed is the national My Health Record (MHR) System
So, What is My Health Record?
My Health Record is a secure online summary of an individual's health information. Healthcare providers authorised by their healthcare organisation can access My Health Record to view and add patient health information.
Through the My Health Record system, healthcare providers can access timely information about their patients, such as shared health summaries, discharge summaries, prescription and dispense records, pathology reports and diagnostic imaging reports.
The patient can control what information goes into their My Health Record and which organisations have access to it.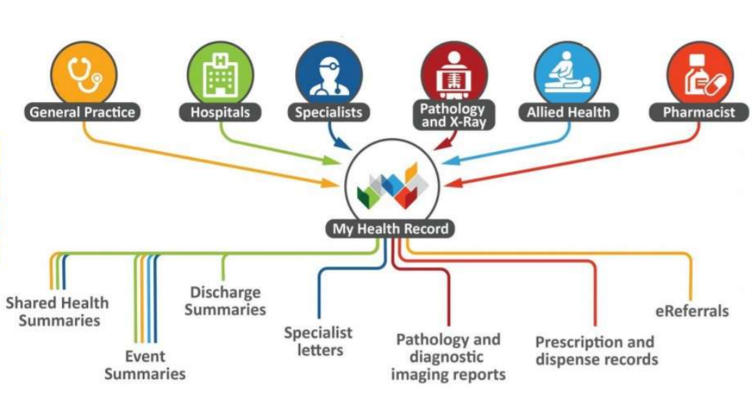 My Health Record has multi-layered and strong safeguards in place to protect your information including encryption, firewalls, secure login, authentication mechanisms and audit logging.
There are strict rules and guidelines about who can see and use your My Health Record to protect your information from misuse.
As more people use the My Health Record system, Australia's national health system will become better connected. The result is safer, speedier, and more efficient care for you and your family.
It's your choice who sees your My Health Record and what's in it. You can choose to share your information with the healthcare providers involved in your care. By allowing your doctors to upload, view and share documents in your My Health Record, they will have a more detailed picture with which to make decisions, diagnose and provide treatment to you. You can also ask that some information not be uploaded to your record.
Your health information is available in one place, which means it can be easily accessed by your doctors, specialists, or hospitals.
Once it's set up you don't need to do anything. Health information can be viewed securely online, anywhere, anytime – even if you move or travel interstate. You can access your health information from any computer or device connected to the internet.
Chamonix, together with SA Health, lead the Pilot Run of My Health Record with NALHN hospitals, engaging various key end-users of the system, providing them with assistance in easy navigation, presenting them with a comprehensive reference guide and delivering them with a bunch of inclusive test cases which they can take a shot at to make themselves familiar with the system.
I couldn't have imagined a more incredible experience from my first Chamonix engagement and the learnings I got from being a part of this project have been invaluable.
Until then…stay safe and tuned to read about my other exciting adventures!