Our C Services offering provides customers the same disciplined methodology and technological expertise that Chamonix is known for in a new, scalable end-to-end solution that optimises your operations, helps manage risk and reduces costs.
C Services provides access to a highly skilled team to provide the support you need in a robust, comprehensive and relevant IT support solution. From Cyber Security, Integration-as-a-Service, Cloud Migration and Application Management through to Managed Environments and Managed Support, we provide customers the reassurance they need, allowing them to focus on accelerating their business.

Cyber Security as a Service
Successful mitigation against an evolving cyber-threat landscape requires a continuous improvement approach to ensure that what matters most remains protected. Many businesses do not have the time, expertise or internal resources to effectively manage their cybersecurity controls and ensure their security posture can keep pace with the accelerating rate of change.
For this reason, we offer a managed cybersecurity service that allows your business to focus on delivering value to your customers while our team of highly-skilled architects, engineers and consultants provide a comprehensive cyber security solution, from discovery and planning through to implementation and maintenance of security policies in the future.
Our range of capabilities cover:
End User Device Management 
Server/Service Management 
Centralised Logging 
Microsoft 365 
Additional Services 

Patch management

Drive and media (USB) management & encryption

Device hardening

Advanced threat protection

Application whitelisting

Application hardening

Mobility

Backup / DR

Patch management

Server and application hardening & whitelisting

Database management

Other ISM Security controls including:

Cryptography requirements
Traffic encryption in transit and at rest
Application whitelisting

SIEM Services including Azure Sentinel and Splunk

Event Centralization and Management

Real-time alerting & automated ticket creation

Proactive action

Dashboards & Search

Monitoring

Essential 8 reporting and compliance

Access anomalies

Brute force detection

DevSecOps

Data Loss Prevention (DLP)

Microsoft Defender (Office, Azure, Windows)

Cloud App Security

Intune Mobile Device Management

Conditional Access

Multifactor Authentication (MFA)

Self-Service Password Reset

Azure Information Protection

Email Management

eDiscovery and Retention

Training in the use of the listed controls

DevOps and Secure Development Practices\Analysis and Business Continuity Assessment
Essential Eight 
We have recently developed a unique Essential Eight-as-a-Service offering that facilitates a managed approach to your organisation's security journey, covering all components – from discovery and planning through to implementation and maintenance of security policies in the future. Our Essential Eight as-a-Service will deliver a good baseline level of cybersecurity for most businesses that do not have specific accreditation requirements.
When working with our clients across their cybersecurity uplift projects, we break the project down into the following engagements: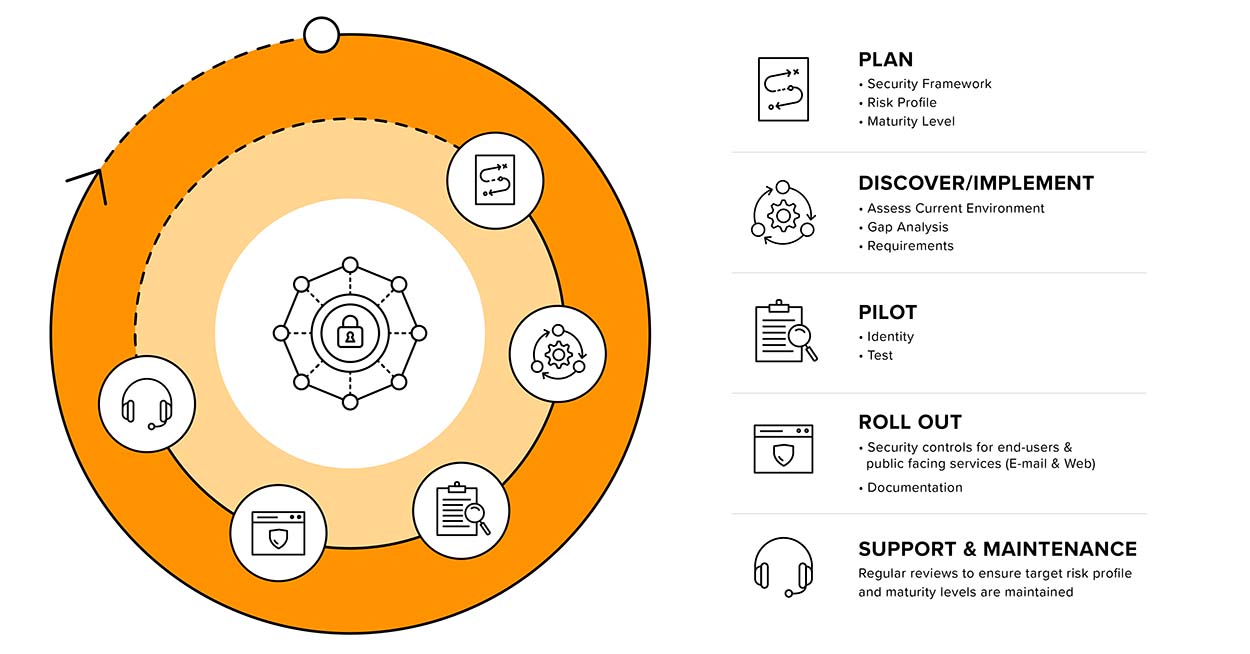 There are a variety of systems in the market designed to increase productivity and help organisations deliver value to their customers.  As the number of these systems increases, integration becomes key in enabling efficiencies and ensuring key data is available when and where it's needed. We help organisations create integrations as well as supporting their existing platforms. Our Integration Management and Enhancement as a Service offering ensures integrations remain aligned to the changing needs of business and we provide guaranteed availability of skilled personnel to support integrations on a basis that suits your requirements. 
Our comprehensive service covers:
Management and monitoring
Maintenance
Service Desk (Incidents, Programs, Changes, Service Requests)
Enhancements
Migration of existing integration solutions from on-prem to cloud

Our Integration Management and Enhancement as a Service offer provides you with access to a dedicated, broad skillset, allowing greater scalability and resource elasticity.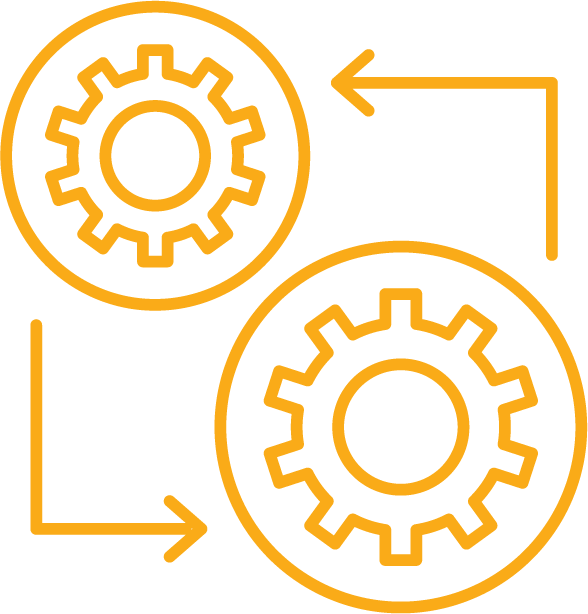 Infrastructure as a Service
Looking to transition to a modern mobile way of working?  Our unique Infrastructure and Environment Services offering provides you with a highly responsive solution to enable mobile workforces whilst ensuring a high level of security. Our team has deep experience in implementing and migrating environments for organisations of all sizes across a wide array of industries. From healthcare to Defence organisations, we have the expertise to ensure that your organisation's IT Infrastructure can meet the current and future needs of your business.
Our Infrastructure and Environment Services approach ensures that secure, futureproof, reliable and efficient performance is at the core of your organisation's infrastructure, network and environment architecture.
Our offering comprises:
Infrastructure and Environment Architecture Review:
Our highly experienced architects can assess your organisation's current IT and Systems Infrastructure, looking at both current and future business demands as well as the total cost of ownership for your existing IT infrastructure. Our solution architects assist in the development of an Infrastructure and Environment roadmap to suit organisational requirements across on-prem, cloud and hybrid environments.
Assessment and Uplift of On-Prem and Hybrid Environments:
Not all organisations are able to migrate their current on-prem IT infrastructure to the cloud. This can be for a variety of reasons, such as compliance and data sovereignty for Defence organisations. Our Infrastructure and Environment engineers, architects and consultants have extensive experience in guidance and implementation services for a range of customers with a requirement or roadmap involving the retention of on-prem and hybrid environments.
Establishment Services for Secure Cloud-based Environments:
The need to establish a cloud environment can be driven be a variety of factors, impacting both new and existing businesses.  Whether it's Greenfields or a platform to integrate with existing on-premises services, we have experience in establishing cloud environments across a range of technology stacks (e.g. Microsoft 365) and a range of cloud frameworks (SaaS, PaaS or IaaS solutions) ensuring the right technologies can be implemented to suit the needs of your business. We take a security first approach in establishing cloud infrastructure and environments and have established and continue to manage a number of cloud environments certified for use with classified data up to PROTECTED classification.
Cloud Migration Services:
Having a roadmap to cloud is one thing, but being able to effectively migrate core business, IT and communications services to the cloud is another. We have extensive knowledge on the requirements for migrating your business to the cloud, with over 10 years' experience migrating public and private sector organisations of all sizes to a wide range of cloud services. Our aim with every cloud migration is to ensure minimal impact whilst ensuring work is always undertaken in a secure and cost-effective manner. Like any transformation, your people need to be taken on the journey and our team can assist with change management to ensure your team get the best use out of the newly migrated cloud services from day one.

Application Management & Enhancement as a Service
Designed as an alternative to the traditional, project-based approach to development, our Application Management as a Service offering is a relevant, cost-effective solution providing both support and enhancement services. Through access to the right mix of skills at the appropriate points of your application's lifecycle, you are empowered to focus on driving its continued evolution. Through our guided approach, your 'as a Service' team typically comprises an Application Manager, Business Analyst, Developers and a Change Manager. From smaller requirements through to larger, more complex projects, we keep your application and platform functionality aligned to evolving needs, so you can focus on what matters most.
Our services cover:
Scope, Design and Build solutions
Leveraging existing platforms or build custom solutions
Management of applications and platforms
Health Checks and architectural reviews
Enhancements
Security assessments

Our team supports a wide variety of applications and platforms. Our most common platform and technical stacks include:
SharePoint (On Prem & Online)
Power Platform
Dynamics CRM
WordPress
Kentico
Sitecore
Teams
Bespoke Development (in a range of languages including .Net, Angular, Ionic, Xamarin, Node)

Our Development as a Service offer provides an ideal solution for organisations looking to outsource the development of their application to a specialist team to allow them to increase focus on their core business. Our holistic service covers: 
Service Design

Architecture Management
Capacity and Performance Management
Change Management
Monitoring and Event Management
Knowledge Management
Continuous Improvement
Deployment and Release Management
Infrastructure and Platform Management
Software Development and Management
Security Management


Our Agile approach ensures backlog prioritisation is aligned with your needs. Our team has a wide range of collective skills with a strong focus on maintaining currency. Through access to the broader Chamonix team, we stay on top of trends in both technology and the wider market to ensure you remain informed and best positioned to make strategic decisions to benefit your customers.   

As organisations become more reliant on increasingly complex IT and communications systems for their everyday operations, they need a support solution that is both robust and able to adapt to the evolving needs of business. 
We understand that each organisation is built differently and that a "one-size fits all" approach doesn't work. Our flexible support services can be used to extend, augment or serve as an escalation point for your organisation's existing internal IT functions, providing you with expertise and experience that can be difficult and expensive to resource in-house.   We also offer end-to-end management services for your key platforms, an ideal solution for businesses looking to reduce risk whilst increasing focus on their core value proposition.
You're in great hands! 
Our team of  over 35 highly skilled personnel, coupled with access to a broader team of over 60 additional specialist consultants provides the collective knowledge base required to provide 1st class support across a wide array of technology stacks.  Our specialised team has over 11 years' experience managing core business services on behalf of our customers across a range of industries, providing the assurance they need and the quality they expect.
We offer an extensive range of services, including:
End User Device Management & Support

Cloud Services 

On-Prem Services 

Windows

Android OS

iOS

macOS

Device Security Support

MAM & MDM Management & Support

Azure

Azure Stack

AWS

M365 Toolsets (Including Sharepoint Support)

Active Directory Domain Services

Network Support Services

Network Segregation

nTier Application Services

Database Services